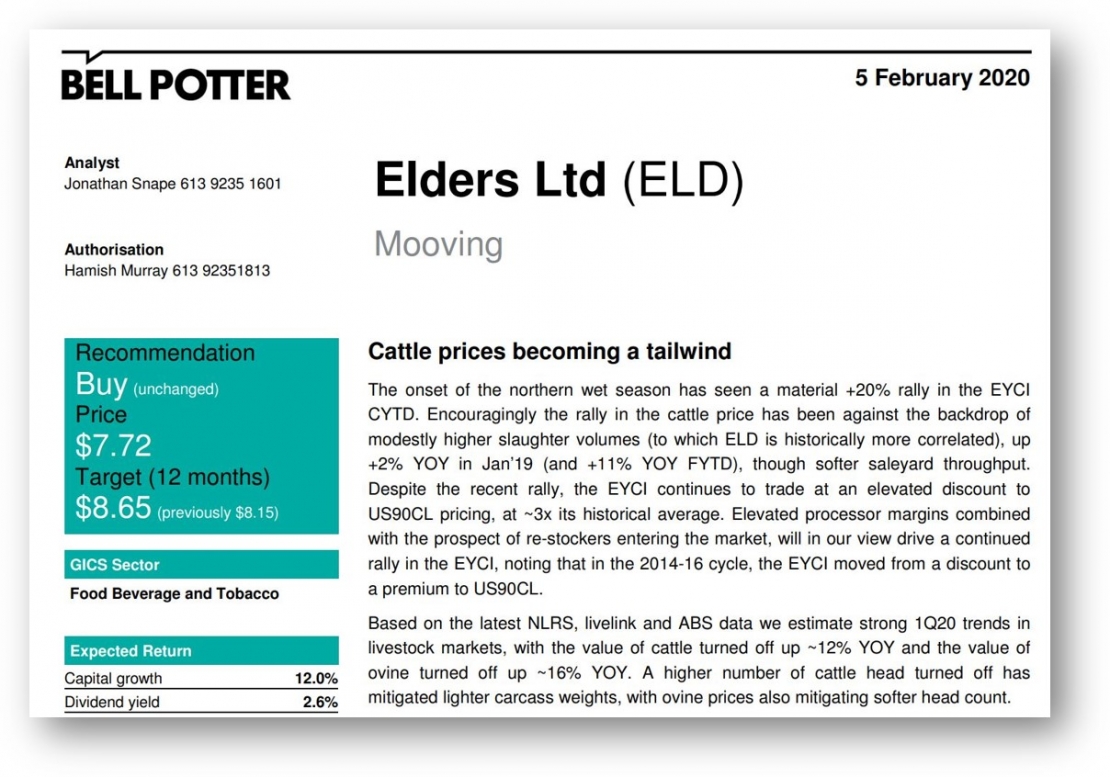 Real broker research
When you trade with Bell Direct, we give you access to the latest research from the Bell Financial Group.
Bell Financial Group - real broker research
BuySellSignals research - detailed reports with recommendations, signals and more
Consensus research - recommendations from 20 brokers
Key measures - from Morningstar
ASX company announcements
Live business news - from Dow Jones Newswires
Boardroomradio - webcasts of ASX company announcements
View sample report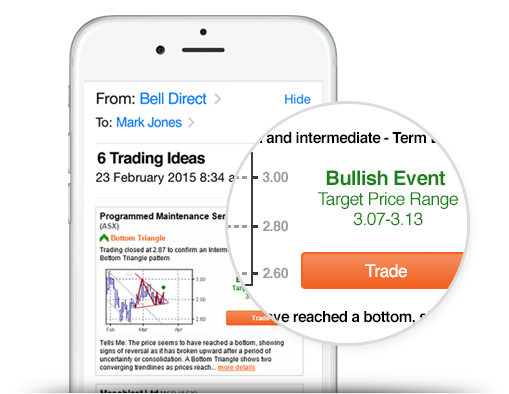 Daily trading ideas
When you trade with Bell Direct, you'll receive six bullish and bearish trading ideas each day in your inbox.
The alerts are emailed early each morning so you can decide in advance which trading ideas are best suited for you. Bullish and bearish actionable trading ideas are based on chart patterns detected by Recognia.
See a sample email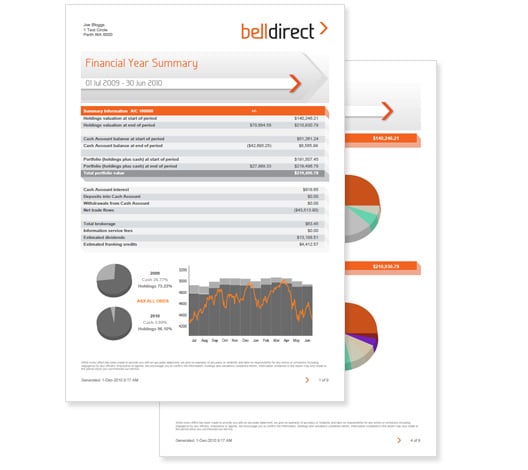 Easy tax reporting
The Bell Direct financial year summary report is a direct result of taking on board our clients' feedback to help with their end of year account-keeping.
This innovative and easy-to-read report is free and available to all our clients who traded with Bell Direct during the year.
The report includes details like:
Your account summary
Holdings valuation
Cash account summary
Transaction summary
Brokerage and information services and
Estimated dividend summary
View sample report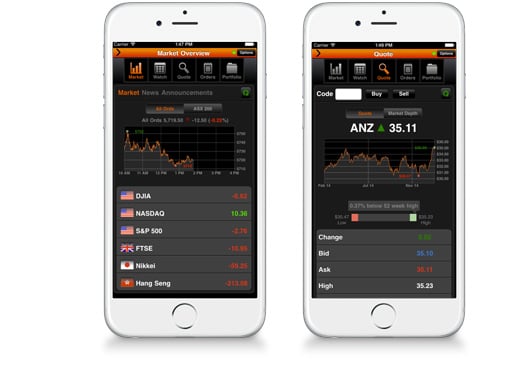 Mobile trading
Make trades on-the-go, get stock quotes, track your portfolios and view the latest research using your Smartphone.
Bell Direct mobile trading is available on iPhones and Androids. It's web-based, so there's nothing to download and install.
You can also add our site to your mobile home screen for fast access on the go.
Read more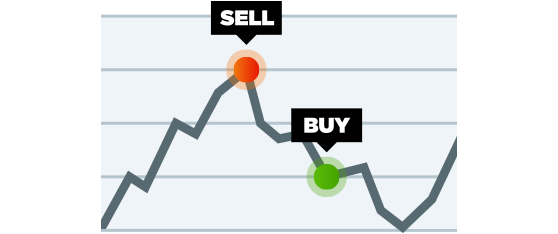 Free conditional orders
Don't miss that trade.
Bell Direct offers FREE advanced conditional orders, where you can create pre-determined orders for equities, interest rate securities and warrants which will be placed onto the market once your trigger conditions are met.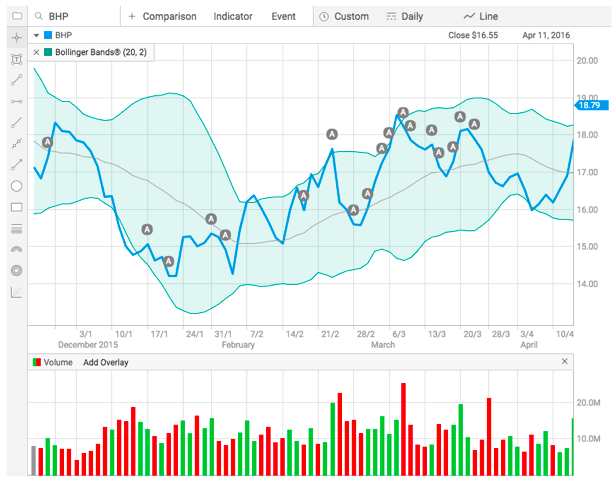 NEW charting functionality
In a global first implementation, our new fully interactive HTML5 charting technology will help you visualise complex pricing data and technical indicators in a simple way. These charting solutions allows you to directly manipulate the data displayed, annotate and draw, in a fully responsive layout on all your devices.
Read more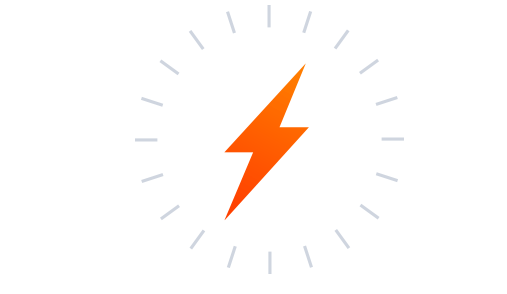 1 Second placement guarantee
When you trade, speed is everything. So we guarantee it.
When you place an eligible 'market to limit' order we guarantee to place it onto the ASX in under 1 second - guaranteed. If not, your trade is free – you pay zero brokerage on that trade.
It's that simple. And we're that fast.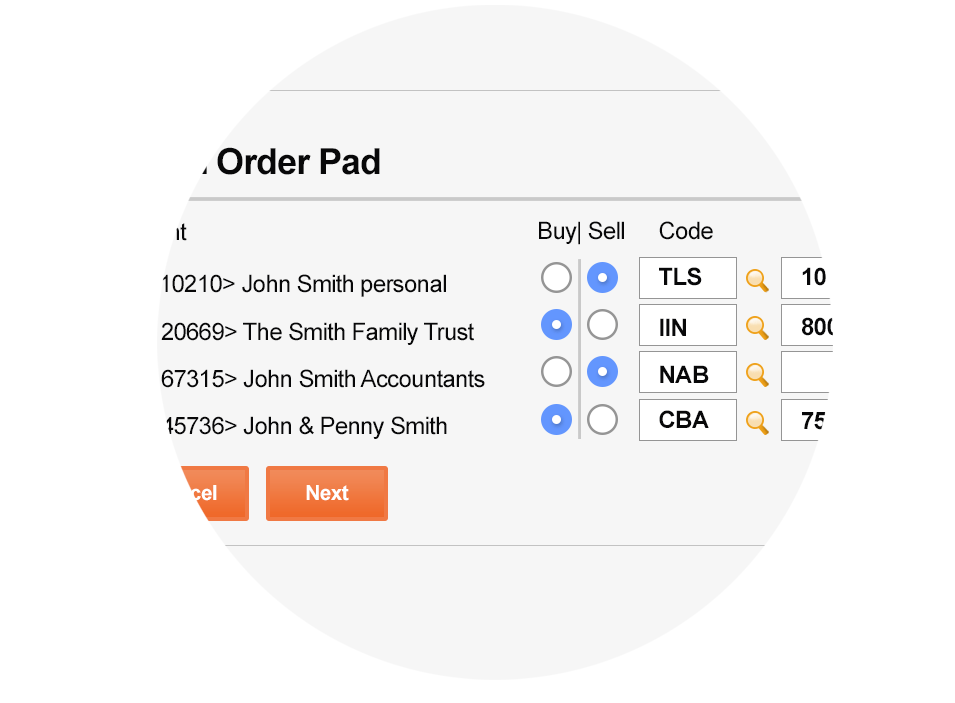 Multi order pad
No need to enter and place one trade at a time.
Now you action any number of trades in or out of a stock from one or all of your accounts with just one order pad.
So when all of your orders go to market simultaneously, they'll have the best chance of being executed around the current price.
Read more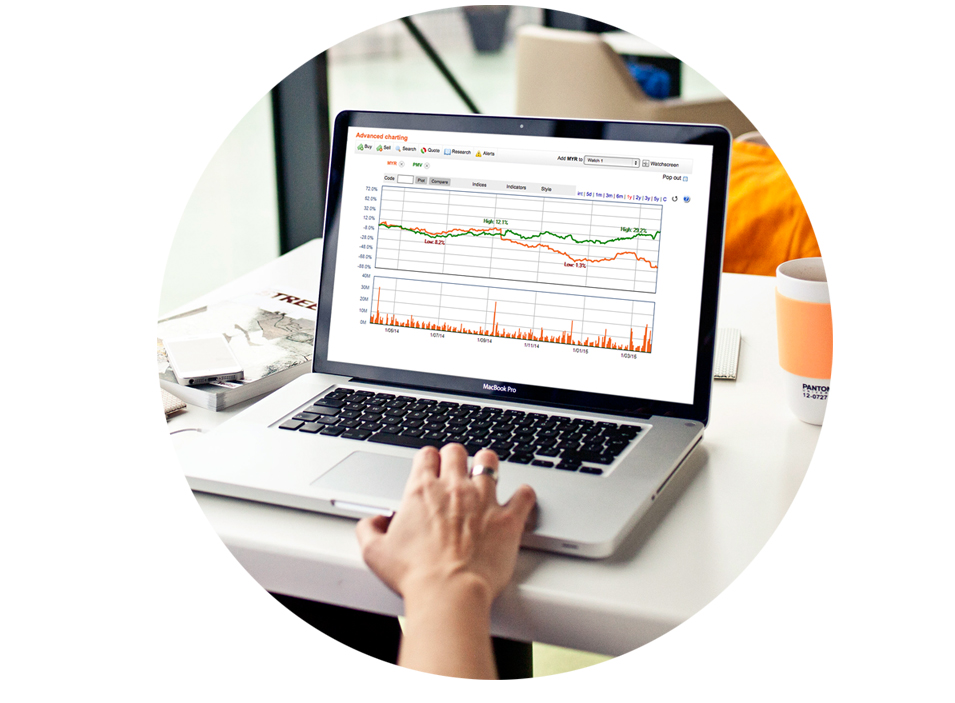 Stock filter tools
When you trade with Bell Direct you get trading tools to make your next move a masterstroke. Access some of the most advanced online trading tools available, including several Australian firsts.
Strategy builder
Technical insights
Market map
Unusual volume
Broker research
Advanced charting
Changes in substantial holdings
Directors' trading
Visual depth chart
Read more